---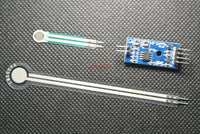 FSR Force Sensor 1.5KG 2KG FSR mixed + Signal Converter kit A0 D0 ADJ
Package Included
1.5KG FSR/7.5mm diameter x1pcs
2KG FSR/10mm diameter x1pcs

Signal Converter (analog + digital output) x1pcs 
*Digital output:default output is High level, when pressed to the limit value, output is LOW level. 
Features of the signal converter
Both the Analoge and digital output can be adjust.
1)
By adjusting the D0-Res Potentiometer, the comparasion  threshold  will be adjusted, D0 output is low as default.
2)
By adjusting the A0-Res  Potentiometer, The analoge output can be adjusted to be almost linear. the A0-Res is different upon different FSR part no. A0-Res for 1.5KG FSR/7.5mm and 2KG FSR/10mm here is recommended to be 56K ohm and 36K ohm.