---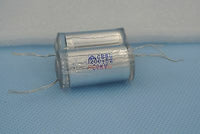 1pcs 1200PF 30KV 122 High Voltage Capacitor polystyrene film CB80
Lot Of 1pcs. 
Product Name
1200PF 30KV High Voltage CBB Capacitor
Appication
Typically used for Marx Generator-voltage multiplier
Specification
Tolerance: 5%(J)
Dimension(DxL): 22 x 40mm Ca
Ambient Temperature:-10°C To 50°C
Humidity:80%
Dielectric Strength in between 2 leads:>100000MΩ
Part Number:CB80-30KV-1200PF
Caution:
The capacitance value is very high in this high voltage series, energy storabe capacity is strong, pls kindly pay your high attention to use it. BE SAFE!!!