---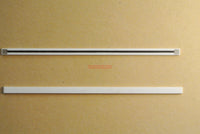 25pcs Thick Film High Voltage Resistors 170M Ohm 1W 20KV
The pricing is for 25pcs
Features and Applications:
Ri82 type high voltage sheet glass glaze resistor uses ruthenium series metallic glass glaze as resistor and palladium alloy as electrode. The resistor has small volume, light weight, good high frequency characteristics, temperature resistance, humidity resistance, overload resistance, and is often used as resistance voltage divider.

Purpose: the resistor is used in DC or pulse circuit and high voltage equipment, high power, out of range resistance and different size resistance can be manufactured through negotiation.
Specification
Size-WXL: 2.5mm*70mm
Resistance:170M Ohm 
Max Working Voltage:20KV
Temperature Coefficient:200PPM/° C
Working Temperature:-55 ° C TO 70° C