---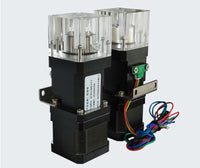 1ml as default
Features
Micro Piston Pump is also called precision distribution pump, its main function is to realize constant flow delivery of liquid medium. This miniature Piston pump has extremely high dispensing precision and dispensing accuracy. The service life can reach more than 5 million cycles without affecting the precision and accuracy. Product features: High precision, low cost, maintenance-free, long life The Piston is made of ceramic raw materials imported from Germany, acid and alkali resistance, good chemical stability, good air tightness, low failure rate, wide application area, small size, compact structure, High integration, precise control, good versatility
Applications:
For low volume application, especially for analysis instrument.
Product Instruction:
MP series piston pump is a family of maintenance–free OEM pump designed for precise fluid dispensing, especially for analysis instrument. Excellent precision and accuracy ensure the analysis result, 10 million cycles reduce the maintenance cost of the analysis instrument. There are a variety of pump configurations, different material for different chemical resistance, different structure for different fluid properties, different resolution for different precision and speed.
Specification:
Step Motor Port

Motor Parameters

Photoelectricity Sensor Port

Color

Definition

Item

Parameter

Wire Color

Definition

Black

B-

Step angle

1.8°

Red

+

Green

B+

Phase

2

Black

-

Phase Voltage

24V







Red

A-

Phase Current

1.2A

Yellow

Signal output

Red

A+

Resistance

2.0Ω±10%

Inductance

4.2mH±20%

Green

N/A

Technical Specifications
Item

Parameter

Accuracy

≤0.5% (Rated Stroke)

Reproducibility

≤0.1% (Rated Stroke)

≤0.5% (≥10% of full stroke)

Rated Stroke (step)

12.5mm(2000 steps)

Resolution

0.00625mm (1 step)

Piston speed

≤12.5mm/0.8s (Pump Volume≤1mL)

≤12.5mm/1s (Pump Volume≤2.5mL)

≤12.5mm/1.2s (Pump Volume≤5mL)

Pump life

≥5 millions cycles

Initial position detection

Output low TTL at initial position;

output high TTL at other position.

Pump pressure

≤0.68MPa

Port configuration

2 internal thread 1/4″-28

Dimension (L*W*H)

125×42×42 (mm)

Humidity

20% - 80%。

Temperature

10℃ - 40℃

Weight

0.51kg
Other parameters
| | | | |
| --- | --- | --- | --- |
| Type | Product Code | Pump Volume | Pump Head Material |
| MP25-1L-A | 050701A | 25uL | PMMA |
| MP25-1L-B | 050701B | 25uL | PEEK |
| MP50-1L-A | 050702A | 50uL | PMMA |
| MP50-1L-B | 050702B | 50uL | PEEK |
| MP100-1L-A | 050703A | 100uL | PMMA |
| MP100-1L-B | 050703B | 100uL | PEEK |
| MP250-1L-A | 050704A | 250uL | PMMA |
| MP250-1L-B | 050704B | 250uL | PEEK |
| MP500-1L-A | 050705A | 500uL | PMMA |
| MP500-1L-B | 050705B | 500uL | PEEK |
| MP1000-1L-A | 050706A | 1mL | PMMA |
| MP1000-1L-B | 050706B | 1mL | PEEK |
| MP2500-1L-A | 050707A | 2.5mL | PMMA |
| MP2500-1L-B | 050707B | 2.5mL | PEEK |
| MP5000-1L-A | 050708A | 5mL | PMMA |
| MP5000-1L-B | 050708B | 5mL | PEEK |