---
Organ chip microfluidic chip
Description
The developed integrated chip with cell patch(cell patch can be customized-Not included in the listed price) is formed by two upper and lower plastic plates. The upper and lower plates have micro-cavities, micro-flow distribution structures, and elastic contact films. The upper plate is also provided with 4 Ruhr sockets, while the lower plate has additional elastic films for the positioning of the membrane and cell patch.

An integrated chip for cell patch. The patch is also placed between the upper and lower chambers. At this time, the two Ruhr ports on the inside of the upper plate and the microfluidic channel connected to it and the upper chamber together form a circuit. The two Ruhr ports on the outside of the upper plate form another loop with other structures. Thus, different organ chips are constructed to simulate the functions of the cell and tissue interfaces of the skin, alveoli, stomach, intestine, kidney, etc.

We also can provide loose-leaf clamps with integrated chips or simple opening fixing plates.
The advantage of the integrated chip lies in its simple and universal chip configuration and the plug-and-play and reversible insertion of the membrane or cell patch.

Main features:
· Standard Ruhr socket
·Self-aligning upper and lower plates
· Easy membrane/cell patch integration
· Good sealing
· Two upper and lower microfluidic chambers
· Reversible assembly
· Mass production
· Low cost
· Users can make their own cell patches(contact us if client need help for cell patch customization )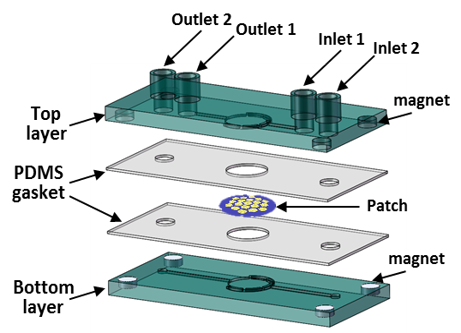 · Users can make their own cell patches(contact us if client need help for cell patch customization )