---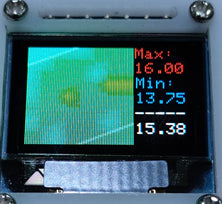 AMG8833 8x8 Infrared Thermal Camera DIY Assembled 7m/23ft Farthest Detection Distance
Specification:

Mearsurement range: 0~80°C
Power Supply:9V battery(NOT included)
Feature:
infrared thermal sensor AMG8833 based -arduino controller/


The is 8x8, and the farthest detection distance is 7 meters/23ft .
Specification:.
The temperature measurement range of infrared thermal imager sensor is 0 ° to 80 ° C. The accuracy is plus or minus 1.5 degrees. It can detect humans from a distance of up to 7 meters. The maximum frame rate is 10Hz, which is very suitable for students' programming learning and DIY lovers. (Note: the temperature range and measuring distance of the thermal imager are theoretical values for reference only.) this product is a programming DIY product, and its actual use and accuracy cannot be guaranteed! In addition, this product is powered by a 9V battery(NOT included). When there is no power, you need to replace the battery by yourself.