---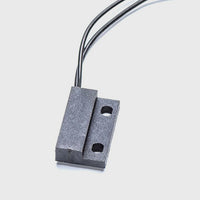 Place of Origin: Shanghai, China
Brand Name: Misensor
Model Number: DC05, DC06, DC07, DC08, DC09
Certification: ROHS CE
Function:Anti-Theft
Color: Black
Operate Distance: 5-15mm
Output Form: Normal Closed (NC), Normal Open (NO)
Mounted Type: Screw Mounted, Hole
Power supply: 5-36V 0.5A 10W
Sensor: OKI or Hamlin Reed Switch
A contact sensor is an important component of security systems and smart homes. Although it was originally designed to detect when intruders open windows or doors, the device has evolved over the years to offer more functions. It provides the data smart homes need to take intelligent actions. A contact sensor can turn your lights on, trigger smart door alerts on your smartphone or control a smart thermostat — the only limit is the imagination of whoever is designing the algorithm.
How do contact sensors work?
Practically, contact sensors tell a security system if doors are closed or open. They can be installed all over a house on the windows, doors or even desk drawers. Available in two pieces, one part of the contact sensor is installed on the door while the other piece is fixed on the door jamb or frame.
During installation, the two parts of the contact sensors are placed next to each other. A current is run through the fixed, wired (or battery-powered) part, and induced through the mobile part via magnetism. While the door/window/drawer is closed, the current flows through the mobile part, but as soon as the door/window/drawer is opened, the two pieces are separated, and the magnetic field is interrupted. The sensors detect this and raise the warning to their dedicated alarm panel.?
Hot Tags: door contact sensor, China, manufacturers, suppliers, price