---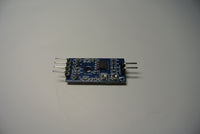 FSR Force Sensor Linear Signal Converter A0 D0 ADJ force to analog output

Signal Converter (analog + digital output) x1pcs 
1pcs/Lot
Features of the signal converter
1)
By adjusting the D0-Res Potentiometer, the comparasion  threshold  will be adjusted, D0 output is low as default.
*Digital output:default output is High level, when pressed to the limit value, output is LOW level. 
2)
By adjusting the A0-Res  Potentiometer, The analoge output can be adjusted to be almost linear.
the A0-Res is different upon different FSR part no.
A0-Res for 1.5KG FSR/7.5mm and 2KG FSR/10mm here is recommended to be 56K ohm and 36K ohm.