---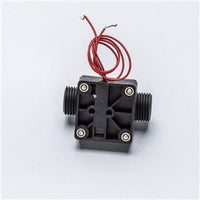 Product Name
Plastic Hall Element turbine flow sensor
Material
Plastic material
Pipe Size
NPT 1/2" or G 1/2¡°
Flow Range
1-30 L/Min
Operating Voltage Range
DC 5-24V
Function
Plastic hanll element turbine flow sensor, convenient installation, waterproof explosion-proof, Heat resistance and cold resistance.the pulse signal output, Can be used for water flow switch, also can be used to measure the flow, Water flow meter for shower room credit card system.have two flow range.If you want to increase the temperature control ,you can add heat sensitive resistor, the output line is green, but also can be connected to the other two special line to control temperature.
--Connection size of others: min 6mm, 1/4'', 1/2'', 3/4'', 1''
--Flow range: min 0.15L/min, max 300L/min.
--Material:Plastic, brass/copper, POM food grade
--Output: red wire connect to "+", black wire connect to "-", yellow wire is pulse signal output.
--Application: water heater, wall-hanging stove, water fountains, vending machines.
--Color: Black, White, Grey, Transparent,cyan
Specification
Serial number
Test item
Standard requirement
Test result
1
Appearance
Product identification is clear and accurate to meet the requirements
Yes
2
Water pressure resistance
£¼2MPa
Yes
3
Operating voltage range
DC4.5¡«24V
Yes
4
Insulation resistance
£¾100M¦¸
£¾100M¦¸
5
Precision
(2¡«25L\MIN)¡À10%
Yes
6
Flow pulse characteristics
F=8.1*Q-3¡À10% Q=L/Min
Yes
7
Output pulse high
£¾DC 4.7V(output voltage DC 5V)
Yes
8
Output pulse low
£¼DC 0.5V(Output voltage DC 5V)
Yes
9
Temperature range
£¨-10¡æ¡«95¡æ£©
Yes
Hot Tags: hall element flow sensor, China, manufacturers, suppliers, price