---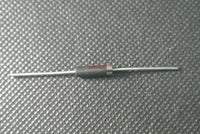 1pcs 20KV 200mA High Voltage RECTIFIER Diodes
Model NBR.
20KV 200mA High Voltage RECTIFIER Diodes
LOT OF 1 PIECE
Specification 
I

FSM =30A

V

FSM=35V 
I

R

= 5uA @ Ta=25°C 
Trr:60-80nS
Features

1. High junction temperature - 40 150°C
2. Low forward voltage drop and low leakage current
3. Avalanche voltage breakdown protection
4. Reverse recovery time (Trr) 60-80nS
5. Excellent resistance to high voltage surge current discharge shock
6. Axial lead type, pipe foot can be welded directly
7. Using epoxy resin moulding package, the surface has corrosion resistance.
8. Current 200 mA, Voltage 20 KV
Applications:
Medical high-frequency X-ray machine, high-frequency rectifier