---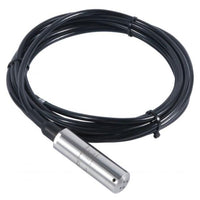 1pcs/lot.
Pressure Range: 0-

10Meters

Liquid Temperature: -20

~

100℃
Product Brief
PT410W-HJ integrated temperature and pressure transmitter adopts fully sealed submerged structure, which can obtain both liquid level and temperature signals at the same time.This type of transmitter is composed of a stainless steel shell with pressure and temperature sensors and high-precision signal conditioning special circuit which have been tested for long-term stability and reliability.The integrated structure and standardized signal provide convenience for the field use and automatic control. The special cable is sealed and connected with the shell, which can be used in the liquid compatible with the structural materials of the transmitter for a long time.
Application
PT410W-HJ temperature and pressure integrated transmitter has small volume, light weight, good long-term stability, suitable for urban water supply and drainage, hydrological exploration, water and chemical industry and other fields at the same time to measure and control the liquid level and temperature.
Features
 

Probe input type measurement, simple and convenient

 

Both liquid level and temperature signals are obtained at the same time

 

All-in-one structure, the sensor part in the liquid is fully sealed stainless steel structure 
Technical Parameters
Measuring Medium: All kinds of liquid compatible with 304, 316L or titanium

Pressure Range: 0

~

1…1000mH2O

Liquid Temperature: -20

~

100℃

Overload: 1.5 times of full range

Liquid Accuracy: ±0.5%FS

(

Typical

),

±0.1%FS

(

optional

)

Temperature Accuracy: ±0.25%FS

Long-term stability: ±0.1%FS/year

Zero Temperature Drift: ±0.02%FS/℃

(

Reference 25℃

)

Full Temperature Drift: ±0.02%FS/℃

(

Reference 25℃

)

Working Temperature: -20

~

100℃

Storage Temperature: -30

~

120℃

Power Supply: 24VDC

Output Signal:4~20mA+PT100 as default                                                        ( 2-wire 4~20mADC, OR RS485 Optional)

Protective: IP68(Sensor Part)
Structure Material
Shell Material:304,316L,titanium or customized

Sensor Diaphram: 316L,titanium,tantalum and other optional

Cable: Nitrile, polyurethane, tetrafluorine and other options

O-ring: fluorine rubber
 Drawing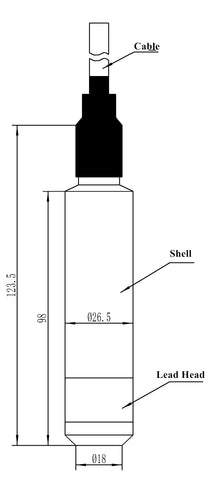 Electrical Wiring