---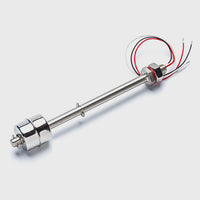 Integral to process control in many industries, liquid level sensors fall into two main types. Point level measurement sensors are used to mark a single discrete liquid height–a preset level condition. Generally, this type of sensor functions as a high alarm, signaling an overfill condition, or as a marker for a low alarm condition.
Continuous level transmitters are more sophisticated and can provide level monitoring of an entire system. They measure fluid level within a range, rather than at a one point, producing an analog output that directly correlates to the liquid level in the vessel. To create a level management system, the output signal is linked to a process control loop and to a visual indicator.
In these point level sensors, a magnetic float moves with the liquid surface, actuating a hermetically sealed "reed switch" in the stem. The simple, low-maintenance design installs readily; minimizes shock, vibration, and pressure; and works with a variety of media. The reed switch can be single pole, single throw (SPST) or single pole, double throw (SPDT).
In markets such as food and beverage, industrial, medical and domestic, printing, agriculture, automotive and white goods for leak detection or level measurement.
Hot Tags: liquid level sensor, China, manufacturers, suppliers, price