---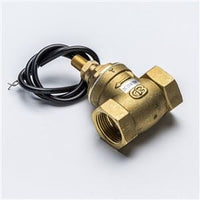 Product Description
Baffle type flow switch is built with a permanent magnet with changes in the size of the baffle flow before and after the activity, driven by permanent magnet and reed switch are given signal (0/1), is on the water flow switch mechanical output switch reset signal of gravity, large diameter, low flow starting large flow work.
All copper material. The pressure of 1.5MPa, use of water within 100¡ãC for water and gas, the level of the installation, start-up flow can be adjusted, loosen the adjustment method: switch fixed nut, upper and lower adjusting switch with teeth copper core fixed nut can be adjusted upwards, can increase the starting flow, down regulation can reduce the starting flow, flow switch with the use of the intermediate relay in use,for security must not be directly connected to the high voltage circuit.
The flow switch direct access to high voltage circuit is not in use, please with the intermediate relay, and you need to install the filter, avoid the magnetic float flow switch is not installed on the card; avoid the shaking and vibration environment, in order to prevent the flow switch malfunction; cannot be used in strong magnetic environment, so that the flow switch failure; flow switch is a precision instrument.
THE BASIC PARAMETERS
Material
Copper
specifictation
96*68*130mm
Flow range
8.5-200L/min
Pressure performance:
¡Ü1.5Mpa
Voltage/electric current
DC220V/AC250V, ¡Ü1A
Connection
DN50
Water temperature
¡Ü100¡ãC
Hot Tags: magnetic paddle flow switch sensor, China, manufacturers, suppliers, price