---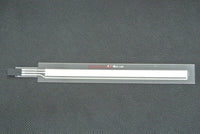 Membrane potentiometer 10K Ohm membrane position sensor L150mm x1pcs
Description
Potentiometers are customizable membrane position sensors with a flexible, ultra-thin, light weight profile.Its low power requirements and linear output make it the ideal position sensor for many applications. 
Features:
? Available in both ring and strip formations
? Linear output
? Resistance proportional to contact placement
Typical performance
? Resistance: Standard 10K ohms
? Resistance tolerance: ±20%
? Linearity: strip ±3%;
? Actuation force: 100 grams  
Connection:Female Receptacles-2.54mm Pitch
Sensing Length:150mm 
Pin 1-3: fixed Resistance; Pin 2- output vs position pressing.