---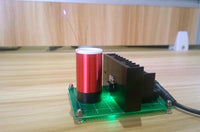 You're bidding for Mini Plasm Speaker Tesla corona based x1pcs
The price is for 1piece
This tesla corona based mini plasm speaker use 24V dc input, the tesla corona excited the air to plasm viberation. this is a new concept speaker.
Compared to traditional speaker, in middle-high frequency range, it has better audio effect.
Needless to ground, it can play music everywhere as your wish.
The package included:
1) 1x Tesla corona based Mini Plasm Speaker
2) 1 x Audio cable
2) 2 x neon bulbs( the smallest one on top of tesla coil- refer to picture in description area) 
Client pls purchase 24V power separatedly.