---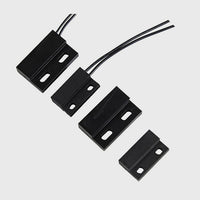 Magnetic Proximity Switch is constructed by shaping and sealing the reed switch connected with wires.
Switching action will occur when a magnetic object is in the proximity.
It is usually used as a position sensor.
The MS05 &MS06 are more popular types , Fixed by a screw M3 or adhesive .
MS23 has a bigger size than MS06 .
MS19 ,Adhesive mounting and wires exit from middle .Widely be used on the auto doors .
MS17 we design to work with high voltage and power switch.Form A,B,C and E can be provide
MS24 Easy to mounted ,Fixed by a screw or adhesive .
Feature:
¡ì Being hermetically sealed ,It can be used in all types of environments including air ,water ,vacuum ,
¡ì oil,fuels and dust laden atmospheres
¡ì No power required or current drain in its quiescent state
¡ì Choice of normal open(FormA) ,normal closed(FormB) ,or change-over contact(Form C)
¡ì Customer can define sensitivity ,cable length and connector
Application
¡ì Household application
¡ì Security system switch
¡ì Level sensor
¡ì Position and end switch
Technical parameters
Type
MS05
MS06
MS17
MS19
MS23
MS24
Conatct Rating(W)
10
10/50/100
80/120
10/50/100
10/50/100
10
Voltage
(VDC)
175
175/265/1000
250VAC
175/265/1000
175/265/1000
175
Current(A)
0.5
0.5/1.0
3
0.5/1.0
0.5/1.0
0.5
Size
(L*W*H)mm
23*14*5.9
29*19*7
96*24*14
35*10*6.9
27*14.5*6
28*8.5*5
Hot Tags: panel mount reed sensor, China, manufacturers, suppliers, price