---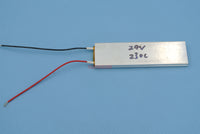 1pcs PTC Heater 24V/230℃/100W Ceramic Stone Aluminum shell 100x30x6mm
Size:100x30x6mm
Rated Voltage:24V
Rated Power:100Watts
Surface temperature is 230°C when heating in dry air(still air)
Attention for USE:
1.In consideration of thermal expansion, there should be some gap around the PTC heaters
2. For heaters of surface-electrified type, it should be aware that safety distance is necessary to keep away from body, metals and frost. Comparatively, the surface-insulation type is more reliable in safety.
3. When heaters connected to three-phase supply, the middle point should be connected with null line so that terminal voltage would not exceed due to imbalance of voltage.
Pls refer to below table for other part number- contact us before order if client required other voltage/Temperature/watts:
| | |
| --- | --- |
| 25*15*3.5mm | 77*62*6mm |
| 220V/60℃/2~5W | 220V/100℃ |
| 220V/100℃/3~8W | 220V/220℃ |
| 24V/200℃/5~28W | 220V/250℃ |
| 220V/120℃/3~12W | 220V/150℃ |
| 220V/150℃/4~18W | 220V/80℃ |
| 220V/170℃/5~20W | 220V/200℃ |
| 220V/200℃/6~26W | 220V/120℃ |
| 220V/230℃/8~35W | 220V/170℃ |
| 12V/200℃/4~16W | 12V/120℃ |
| 220V/270℃/9~40W | 12V/200℃ |
| 110V/200℃/5~30W | 24V/200℃ |
|   | 110V/200℃ |
| 35*21*5mm | 12V/65℃ |
| 220V80℃/3~6W | 24V/55℃ |
| 220V120℃/5~12W | 24V/100℃ |
| 220V150℃/6~15W | 220V/60℃ |
| 220V200℃/9~28W |   |
| 220V230℃/10~35W |   |
| 220V270℃/12~50W |   |
| 220V100℃/4~9W |   |
| 220V180℃/7~20W |   |
| 12V80℃/2~5W |   |
| 12V120℃/3~10W |   |
| 12V220℃/5~28W |   |
| 24V220℃/5~30W |   |
| 110V230℃/8~30W |   |
| 36V220℃/6~35W |   |
| 220V60℃/2~5W |   |
| 24V60℃/2~5W |   |
| 24V110℃/3~10W | 80*30*5mm |
| 48V220℃/6~35W | 220V 80℃/8~17W |
|   | 220V150℃/15~35W |
|   | 220V200℃/30~85W |
| 50*15*3.5mm | 220250℃/40~120W |
| 220V60℃/3~7W | 12V200℃/25~75W |
| 220V100℃/4~10W | 110V200℃/27~80W |
| 220V120℃/5~15W | 220V 60℃/6~14W |
| 220V150℃/7~26W | 220V100℃/8~20W |
| 220V170℃/9~32W | 220V120℃/10~25W |
| 220V200℃/11~38W | 220V220℃/35~90W |
| 220V230℃/13~46W | 220V170℃/18~60W |
| 220V270℃/15~55W | 24V 220℃/35~90W |
| 12V/200℃/7~25W |   |
| 24V/200℃/7~30W | 100*21*5mm |
| 110V220℃/10~40W | 12V/220℃/80W |
|   | 24V/220℃/100W |
| 50*30*5mm | 12V/120℃/50W |
| 110V200℃/10~45W | 12V/65℃/30W |
| 220V200℃/12~50W | 110V/220℃/140W |
| 12V200℃/8~40W | 220V/100℃/50W |
| 220V270℃/15~70W | 220V/230℃/130W |
| 220V150℃/8~23W | 220V/60℃/30W |
| 220V60℃/3~9W | 220V/200℃/120W |
| 220V80℃/5~12W | 220V/80℃/40W |
| 220V100℃/5~17W | 220V/120℃/60W |
| 220V120℃/6~20W | 220V/170℃/100W |
| 220V170℃/10~40W | 220V/270℃/150W |
| 220V230℃/13~60W | 220V/150℃/80W |
|   | 24V/110℃/50W |
| 60*21*5mm | 24V/60℃/30W |
| 220V/230℃ | 48V/220℃/120W |
| 220V/270℃ | 36V/220℃/100W |
| 220V/80℃ |   |
| 220V/150℃ | 150*30*5mm |
| 220V/100℃ | 70℃/15~35W |
| 220V/200℃ | 130℃/25~65W |
| 220V/120℃ | 200℃/60~125W |
| 220V/170℃ | 250℃/70~150W |
| 12V/220℃ | 100℃/20~50W |
| 12V/120℃ |   |
| 24V/220℃ | 170*62*5.5mm |
| 12V/80℃ | 220V/80℃/160W |
| 110V/220℃ | 220V/100℃/180W |
| 220V/60℃ | 220V/150℃/300W |
| 24V/110℃ | 220V/200℃/400W |
| 24V/60℃ | 220V/250℃/600W |
| 36V/220℃ | 220V/220℃/500W |