---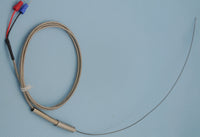 Sheathed Thermocouple K  D1.0*300L 1meter cable IEC60584 DIN43710 Standard  x1pcs
Product Series Brief
The minimum sheathed probe diameter can reach to 0.5mm, other size will be 1mm/1.5mm/2mm/3mm/4mm/5mm/6mm/8mm probe diameter.
The thermocouple insert core and the protective tube are insulated.
The thermocouple inserting core conforms to DIN EN 60584 and / or DIN 43710, which can provide a double type.
Test pressure: 40bar (helium) leak test – measuring end.
Application
applicable to chemical plants, power plants, pipelines, engines, test beds and all occasions requiring flexible installation and replacement
Product Specifiaction
Model:K
Measurement accuracy:1.1℃ or 0.4%
Sheath material:SUS316 GH3030
Sheath diameter*Length:1*300mm
Measuring range:-200 C… 1200 degrees centigrade
Response time:2S
Structure:Single or double groups
Wire material:Silica gel / Teflon / glass fiber / stainless steel
Temperature contact:Insulation type and grounding type