---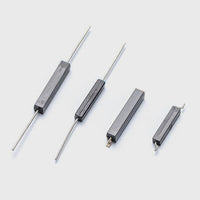 Our environmentally sealed surface mount reed sensor series range from 8mm (MS33 series) and up. And cover the majority of low power switching requirements. Furthermore SMD reed sensors are based on reed switch technology known for long life switching for billions of operations (load dependent). Drawing no power in their normally open contact state. A feature that is required in battery powered and portable medical devices. Choose from various switching configurations ranging from 0-100W rated power and switching voltages up to 1,000 VDC. And typically supplied in tape and reel packing per standard IEC 286/part 3. So you can manufacture our SMD reed switch products with automatic pick and place handling.
Reed switches are surface-mount (SMT) ready and are available with or without housing. They are suitable for automated assembly processes, high-volume applications, and for the usage of PCBs with more than one component.
Features
No power supply required
Automated SMT assembly
Tape-and-reel packaging
Various sensitivity ranges and high-reliability versions
Applications
Automated assembly processes
High-volume applications
PCBs with more than one component
Reed Sensor is a surface mount, Form C, Single Pole, Double Throw, Changeover (SPDT), switch rated at 15 to 20 AT. The SMD Series Reed Sensor is used in On/Off control switch, position, proximity, and motion applications. Supplied tape and reel, with 13 inch plastic reels and 32mm wide tape according to IEC 286/part 3.
Hot Tags: SMD reed sensor, China, manufacturers, suppliers, price