---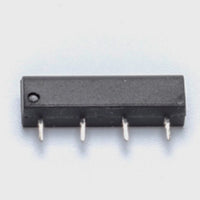 Through hole reed sensor products are epoxy encapsulated reed sensors designed for through hole mounting on a printed circuit board (PCB).
These SIP devices are Normally Open, mountable on PCBs having a through hole and are Omni-polar. We manufacture these in a range of sizes and mounting pitches, capable of switching the lowest of 1W loads, up to 30 W. For environmental reasons, the leads are plated with pure Tin, which is Lead-free.
· Encapsulated Reed Switches in through-hole technology
· Pitch ranging from 2.54 to 20.32 mm
· Also available with integrated resistor
· Customized types available
Misensor offers a broad range of magnetically operated sensors, reed switches and reed relays. All are well-proven designs manufactured to our high standards. With a rich history of leading the industry in providing magnetic sensing solutions, our experts are committed to delivering the best products and solutions for your specific needs.
· Wide selection of standard products suitable for a variety of applications
· Custom sensor designs per customer specifications
· Vertically integrated manufacturing
· In-house magnetic simulation support
· Quick turnaround for custom sensor prototypes
Hot Tags: through-hole reed sensor, China, manufacturers, suppliers, price