---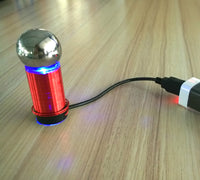 You're bidding for 1piece Tiny Tesla Coil 5V Portable Power Supply Driving Super Mini 1W
The price is for 1piece
This tiny tesla coil can be drived by 5V USB portable power supply(for example, an 2600mAH  can use to drive this coil up to 2 hours).
This super mini tesla coil is 1 watt power rated.
This tiny tesla coil enable wireless charge, to light neon bulb,fluorescent lamp.
An example is to place the tiny coil in box, and then put the fluorescent lamp, the lam is lighted. amazing magic. pls refer to picture 3/3.
The package included:
1) 1x tiny tesla coil
2) 2 x neon bulb( the smallest one on top of tesla coil- refer to picture in description area)
Client pls purchase power separatedly.