---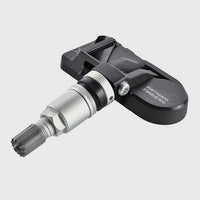 One Programmable Multi-Frequency TPMS Sensor with Metal Valve Stem by Smart Sensor?. Mounting Method: Clamp-In. Frequency: 315/433 Mhz. This One Multi-Frequency TPMS Sensor by Smart Sensor will help you monitor and maintain the appropriate tire pressure for optimal handling, safe braking and better fuel efficiency. Designed to help keep your TPMS perform at its peak, the Programmable Multi-Frequency TPMS Sensor fits multiple TPMS applications and can be easily programmed to your vehicle type. This sensor provides accurate operation and reduces inventory costs. Rubber valves and grommets can withstand harsh weather conditions.
Features:
Easy programmable solution to the selected vehicle type
Designed to help maintain proper pressure in your tires
Can be configured for many TPMS-equipped vehicle applications
Ensures accuracy, reduces inventory costs, prolongs tire life
Copies the OEM ID and avoids performing lengthy vehicle relearns
Premium-quality design to last you for ever-lasting durability
Military-grade lithium battery ensures reliable operation, long cycle life
Rubber valves and grommets resist heat, ozone, and harsh weather conditions
Provides impeccable strength and dependability
Comes pre-programmed specifically to your vehicle
Simple clamp-in installation
One per Pack
The Pro+ TPMS Sensor is a truly programmable solution by Smart Sensor offering solid coverage and less inventory. This cutting-edge sensor is completely programmable to function across a wide range of TPMS-equipped applications and can be easily configured to your vehicle type to help your tire pressure monitoring system perform properly. The Smart Sensor copies the OEM ID and prevents performing lengthy, complicated vehicle relearns. With this top-notch sensor, you can maintain the correct pressure in your tires and extend their service life. It will provide you with the most precise data about the current tire pressure and alert if the pressure is low, thus allowing you to avoid poor vehicle handling performance and unstable braking. This Pro+ Programmable TPMS Sensor ensures accuracy, lowers the cost of servicing vehicles with TPMS, as well as improves overall handling, braking and fuel economy. Durable aluminum rubber valves and grommets deliver excellent resistance to heat, ozone, and polar along with superior protection against hazardous weather conditions, while the military-grade lithium battery ensures a dependable, long-lasting service life across the entire range.
Hot Tags: TPMS sensor, China, manufacturers, suppliers, price