---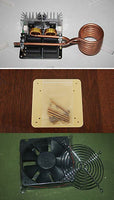 ZVS Induction heater 12-48V high frequency induction heating driver Assy
The package included
Induction Heater Driver Board x1pcs
PCB supporting Base x 1pcs
Cooling Fan x 1pcs
Refer to picture 1/3
Reminder
Client pls order power supply separately, can pls make sure the water cooling to copper tube is installed before use.
Pls add ON/OFF switch in between power supply and this diver board, it is to make sure the output voltage of power supply is stable before it is connected to this driver baord.
This induction heater driver board required to use with 12-48v dc power supply (client should purchase the power supply separately), the maximum input current is 20A.The maximum power is 1,000watts( which only allow short time use), 500 watts power is suitable for long-time use.
It is required to cool the inductor/capacitor components on board, the listing comes with fan to cool the board.
It is required to cool the copper tube by water-cooling, user can use a water pump to cycle the water-cooling.
It can be used to give the small part quenching, annealing etc heat treatment.
Can also be used with graphite crucible to melt gold, silver, copper, aluminum and other metals(graphite crucible-which can accommodate 50grams- is not included, client should purchase separately)
This induction heater can heat Iron, carbon steel, graphite, titanium alloy etc materials directly. The heating to Copper, aluminum, 304 stainless steel will be very slow.
Input 24V/15A+, to use with graphite crucible, aluminum can be melt;
Input 36-48V/20A+, to use with graphite crucible, gold/silver/cu can be melt;
¡¾Cautions¡¿
1¡¢ This induction heater need to work with
1) Power suppy
2) Water –cooling to copper tube
2¡¢ In case of continuous work, pls turn the cooling fan on to cool the components on board
3¡¢ when use switching power supply, since there is a buffer/soft starting time,
the output voltage increase slowly to normal. If the output voltage is less than 10v and the induction heater board is turned on, the mosfet will be damaged. There is required a on/off switch connected in between power supply and this driver board. When switching power supply is turned on, Pls wait 5-10seconds to turn the on/off switch to ON to conduct the power supply to this driver board.
4¡¢When heat iron tube or iron rod, the diameter should be less than 10mm, otherwise the over-current will damage the circuits. Client can add a current meter in between power supply and driver board to monitor the current.
Induction heating PCB size£º10x10cm
Heating Ring Inner Diameter£º40mm